List to last OR Listings are the gift of real estate Gods!
I first heard this saying when I was starting out in this business in the late 90's and never really understood what it meant.  This is the time when the real estate market was going through a lot of change including the advent of Buyer Representations.  As a novice entering the market, i failed to understood the significance a listing has on a REALTOR business.  It's been over 10 years and having been in a business for a while now, I appreciate what listings allow me as an agent to do.  Here are my top reasons why listings are good for my business:
Listings allow me to be flexible with my time and leverage it.  I can market a listing from my office and leverage my time through social media and print advertising.
Listings allow me to be known in a neighborhood as a local expert who lists properties.
and lastly, they allow me to showcase results!  Nothing sells more than a sold sign on a property for a seller looking to pick a real estate agent.
I came across a condo listing during my Mastermind session this morning with Harish Maraj and Kirby Chan in a building located at Bayview and Sheppard area for $45,000,000 (forty five million dollars) (should be 450,000 maybe?) and it got me thinking about what mistakes like this mean to the listing agent and the seller.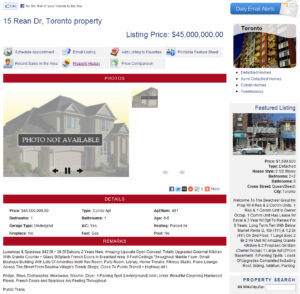 Real Estate Agents are in the representation business and accuracy is concern number 1.  Accuracy in information being received and delivered!  This include information that we have collected and are submitting to different systems to market a property or negotiation contract.
We take this responsibility very seriously and have different systems in place to make sure all information is accurately relayed.  Here are my top steps when dealing with clients and keeping track of information:
I'm a heavy user of email and text and we keep the information syndicated with our office to make sure everyone is on the same page.
I rely on my little black book as it gets full of information that my clients have disclosed and it gets transferred over to our main system for future references.
I double check all our work!  All contracts that are signed are double checked to make sure they are filled accurately, we go through the contracts with our clients in detail and when in doubt, we get lawyers involved to provide expert legal advise on any items we need clarification.  We guide our clients in helping them get what they want!
For listings, I double check all our listings, further we send a copy of any property we list to our clients to confirm the data before it's sent out to the public.
The listing shown above is an example of what we sometimes see in the market place and it could have easily been avoided should the agent in question had done their due diligence.  I've taken the liberty to notify the Data Integrity Department at Toronto Real Estate Board who will be notifying the listing agent of the gross mistake made.  The impact of this not being noted is a seller's property won't sell as no one looking for a small one bedroom unit in a building would be looking at spending $45 Million dollars.  Any neighbors that see this listing would know who the agent is and it can become a stigma.  I've omitted the name of the agent to protect them or in case they are really looking to sell the condo for $45,000,000 dollars.
Following are my top four most noted mistakes on MLS (Please note that I don't keep stats of these items).  I urge  you to check these before getting your property listed on the market.
Area of property is incorrect:  I've personally seen C01 properties getting listed in C10 or C11 which are never displayed when buyers or agents are looking for them.
Incorrect pricing mistake as listed above
Room measurements are supposed to be entered as meters but are entered in Feet resulting in incorrect room measurements
Incorrect number of rooms or parking spots (There are numerous cases about parking spots and shared driveways)
Let's make sure our information collected and submitted are accurate.  We as agents are paid to be detail oriented professionals who protect the interests of our sellers so let's make sure we are doing it.